Filter Reviews
Acne
Pores
Residue
Issues
Breakouts
Fragrance
Smell
Finish
Color
Face
Protection
Moisturizer
...
Weight
Ingredients
Texture
Reaction
Skin
Looks
Packaging
Cast
Feels
Consistency
Formula
Price
Issues
Breakouts
Fragrance
5.0 star rating

4.0 star rating

3.0 star rating

2.0 star rating

1.0 star rating
Elizabeth P.
5.0 star rating
Wear SPF every day
Review by Elizabeth P. on 4 Aug 2020
Easy mineral SPF that can be used in the place of moisturizer (Oily skin) and blends in without too much white caste (Fair skin)
Rachel S.
5.0 star rating
It's perfect
Review by Rachel S. on 3 Aug 2020
I love this moisturizer. It rubs in quickly and sheer, and makes my skin feel moisturized all day. My skin can be sensitive to products and I've had no issues whatsoever. This is my third Drunk Elephant product and I'm hooked!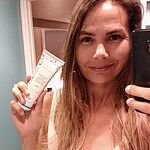 Works Beautifully for me
Review by Emily R. on 3 Aug 2020
I have tried quite literally every single mineral sunscreen there is on the market and read all the reviews. I know how exhausting it is to try to find "the one" that works for you so let me see if I can help offer my two cents worth! I am in my early 40's and have used sunscreens all my life, but have starting using mineral sunscreens daily in the last 5 years or so. yeah...so it took me a while to catch on! This particular one is fantastic. I have been using for one month now and have really enjoyed it. It is not overly thick like some but rather a little on the runny side. I prefer that for application purposes as it feels like it goes on better and soaks into my skin better. It does leave a slight white cast...but after a couple of minutes it dries down and you really cannot hardly tell. Now I should say I have very light skin so I cannot speak to other skin tones. I've also read from some other reviews that it is greasy. I don't have that issue at all. It does leave a "slick" to it at first, but again after a few minutes that is gone. I apply under my makeup everyday and have zero issues with shine or oiliness. I also battle with hormonal acne on the regular basis (yes 40-something still dealing with it!) and I have not noticed that this has increased my acne issues. Nutshell: I would fully recommend to anyone looking for a mineral sunscreen that is on the clean spectrum. It does not irritate my skin or eyes. It does leave my skin oily/greasy and the white cast does not last on my fair skin. I have been working out in my yard all summer long during the COVID and have not had a single issue with burning so I believe that it does the job!
Mariia D.
5.0 star rating
Weird texture but nicely done
Review by Mariia D. on 29 Jul 2020
Great product, you need very small amount of it which makes it last longer. For some reason it has weird clumpy texture, but overall I liked it
Rheesa E.
1.0 star rating
Product didn't work for me, BUT good customer service
Review by Rheesa E. on 29 Jul 2020
I use the product once. Within about 20 minutes, my face was stinging. I wiped my face with a paper towel, but failed to wipe my chest and neck, and ended up with what looked like a chemical burn. Returned the product for a refund.
Love it
Review by Jenna N. on 28 Jul 2020
I break out and this is the only spf that doesn't cause acne.
Jessika O.
5.0 star rating
The best spf for acne prone skin💗
Review by Jessika O. on 27 Jul 2020
I have been trying to heal my skin for a long time now. I have tried a lot of Products but recently I purchased Curology (which I love and its only been two weeks) when you sign up for it they give you a list of products you might like, this spf was one of them. It is the first spf I've ever loved! Not too heavy or greasy & best of all doesn't make me break out.
sheer sunscreen
Review by Amy W. on 23 Jul 2020
This is my first Drunk Elephant product and its great. I have sensitive skin and my face will turn red with anything that irritates it. The Umbra Sheer Daily Defense hasn't irritated my skin, blends in well after a couple of minutes, and it washes off easily. I haven't noticed a smell as other reviewers have mentioned.
Trisha S.
5.0 star rating
Put it to the test
Review by Trisha S. on 20 Jul 2020
I am super happy with the product! I have very sensitive skin and was worried it was going to break me out. I have used it for almost every day and my skin is great! Today I went on a hike for 2 hours late morning and it did not run or get in my eyes, and no sunburn. My ONLY slight criticism would be that it has a very lotion-y smell. Long story short, I am a very happy customer!
sunscreen
Review by Shaun E. on 20 Jul 2020
This is my go to sunscreen for my face, it doesn't irritate my skin, like others do.