Filter Reviews
Feels
Results
Hair
Line
Smell
Skin
Looks
Detangler
Work
Leaving
Spray
Elephant
5 star rating

4 star rating

3 star rating

2 star rating

1 star rating
Smells amazing
Review by Maiya B. on 29 May 2020
Super light and doesn't weigh hair down at all. Gives a really soft texture and smells delicious
Good stuff
Review by Shanna h. on 29 May 2020
I like the smell of product and it works great.
Lightweight detangler
Review by petra a. on 29 May 2020
nice and light-weight, but gets the tangles out. Unlike other oils I've tried, this one doesn't weigh hair down. Even on day 2&3
Tangle Spray
Review by Rita C. on 28 May 2020
This product is amazing!!!! Love what it does to my hair.
ConnieMarie P.
4 star rating
Smells great
Review by ConnieMarie P. on 27 May 2020
It works better than not using anything, I still felt tugs on my hair. It's baby fine and fairly thick, I was afraid to use to much and have my hair oily. As fast as it soaked in I may be wrong about this.
Been looking for a product...
Review by Dorothy F. on 26 May 2020
I ordered this product in the hope that it would be a great detangler, but as with the other ten detangles I have tried over the past few .months it just didn't work like I hoped it would and finally end my quest. It is a good product but not for my hair type. It smells great and come in the coolest packaging I have ever seen. I would recommend this product and do plan on using it up, but will continue my quest.
best spray
Review by Anna F. on 21 May 2020
I have super knotted hair because I live at the beach. I am always needing something to help my hair after being on the windy beach all day, and nothing has helped detangle my knots like this spray.
I love the whole line
Review by Dawn B. on 15 May 2020
I love the whole line of your hair products. It leaves my hair so soft shiny and healthy looking. I also have psoriasis on my scalp and I've noticed it feels better since I've been using these products. I am 56 years and it's brought my hair back to life!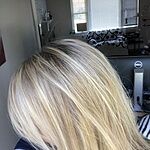 This spray is magic, highly
Review by Janessa A. on 15 May 2020
This spray is magic, highly recommend!
Rangeeta K.
5 star rating
The best oil ever ❤️✨
Review by Rangeeta K. on 15 May 2020
Recently purchased marula tangle spray and absolutely love it . My hair is thanking me . It's worth every penny ❤️ . Keep surprising us with amazing products DE .