Filter Reviews
Results
Skin
Smell
Taste
Feels
Size
Texture
Line
Packaging
Lips
Difference
Moisturizer
...
5 star rating

4 star rating

3 star rating

2 star rating

1 star rating
Love it!
Review by Jovana T. on 5 Apr 2018
Love the Lippe, my lips are moisturized and softer than ever!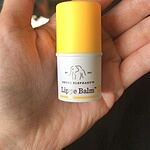 Love it!!
Review by Sharon G. on 22 Nov 2019
Excellent product. Will be ordering more.
Don't love it...
Review by Stacia B. on 19 Nov 2019
Doesn't provide much moisture. Feels like an expensive chapstick.
Ordered fifteen for gifts —
Review by Susan L. on 11 Nov 2019
Ordered fifteen for gifts — some had a layer of bad waxy residue on top
It's ok
Review by Monee Q. on 21 Oct 2019
I like it but feel like it doesn't do anything more than the average lip balm.
Fab Lip Aid
Review by Patti C. on 4 Sep 2019
This product is amazing and really works after one application!
Sweet
Review by Sonya L. on 28 Aug 2019
Love Lippe.
Its wide and won't break off, glides on like a dream.
No flavor but a little bit sweet.
I 💛 My Lippe Balm 💋
Review by M.P. on 24 Apr 2019
If your lips are feeling parched you need Lippe Balm!! This goes on smooth and buttery and melts right in. When it comes to lip balm this is the best!! I bought 1 for my daughter and 1 for myself and we both love it. I will continue buying a few everytime I'm out shopping so we always have it. Thanks DE!! Your products NEVER disappoint!!
Great product!
Review by Trscey S. on 19 Apr 2019
Only draw back is high price and small quantity
Elizabeth C.
5 star rating
Wonderfully moisturizing
Review by Elizabeth C. on 25 Mar 2019
Wonderfully moisturizing