Filter Reviews
Wrinkles
Irritation
Circles
Pump
Skin
Weight
Hydration
Issues
Results
Eyes
Residue
Eye Area
...
Size
Texture
Design
Sleep
Improvement
Ingredients
Packaging
Sensitivity
Consistency
Feels
Looks
Reaction
Wrinkles
Irritation
Circles
...
5 star rating

4 star rating

3 star rating

2 star rating

1 star rating
Great!
Review by Lindsey M. on 29 Jun 2020
Great!
No More Burn!
Review by Stacy S. on 23 Jun 2020
My eyes are super sensitive. I have severe allergies, and my eyes are the first to show signs of a reaction. This product was cooling and did not irritate my skin. It actually helped with the inflammation. You definitely still need an eye cream or something more. (At least, I do.)
The best!
Review by Kristen C. on 18 Jun 2020
I've tried too many eye serums to count but this doesn't irritate my skin, makes my eye area look brighter, and keeps my eyes moisturized. I wish I tried this sooner!
Totally enjoying
Review by Bradley W. on 17 Jun 2020
I use this as my daytime eye cream because it is a thinner consistency. It is not heavy at all, but it is still nicely hydrating. Some people have mentioned that this made their eyelashes grow longer. I haven't noticed that, but I also haven't been using this product for very long. It would be awesome if it did!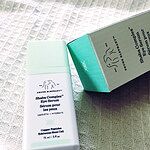 Great product. Love to mix
Review by Lauren K. on 16 Jun 2020
Great product. Love to mix with the C-complex.
Love this product.
Review by M M. on 16 Jun 2020
Love this product.
Best thing ever for eczema prone skin
Review by Natanya M. on 16 Jun 2020
I was nervous about the eye serum disrupting my skin. My eyes have been looking great after one week of use.
Yeees!
Review by Olivia R. on 16 Jun 2020
I've been using this product for about 2 weeks now and am totally digging the results! I've had darkness under my eyes ever since i was a child. Even after just two weeks, the darkness is fading and the skin around my eyes is beginning to appear more smooth.
Great Product; Pump Needs Improvement
Review by Nicole P. on 16 Jun 2020
The product overall feels very good on the eyes. I've noticed the outter edges of my eyes have been softer and more hydrated. My only complaint about the product is the pump/packaging. Too much of the product comes out if you give it a full pump so you have to adapt your touch.
Really like this eye cream
Review by Emily S. on 12 Jun 2020
Really like this eye cream for my sensitive eyes. This is my third bottle and I continue to use it even though I've tried less expensive treatments. It's worth it!