Filter Reviews
Improvement
Skin
Value
Bag
Face
Size
Oil
Kit
Amount
Looks
Packaging
Moisturizer
...
Feels
Set
Baby
Versions
Babyfacial
Elephant
Improvement
Skin
Value
...
5 star rating

4 star rating

3 star rating

2 star rating

1 star rating
Courtney C.
5 star rating
Love it
Review by Courtney C. on 28 Oct 2019
Love everything from this kit. Even the carry bag is adorable and very versatile. My ONLY complaint is that I live in Canada, so it was a difficult process to receive this item!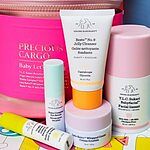 An amazing value!
Review by Shelly C. on 16 Oct 2019
Not only is Baby Facial a miracle product, but for just a few dollars more you get all these other products that last about a month, AND this adorable bag!! Total win!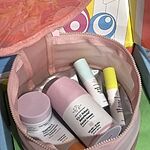 Skincare is a waiting game
Review by Lanaya L. on 19 Nov 2019
Really love the products and the packaging.. I think the fancy packing definitely makes the products more expensive but it looks cute..

I started this & am waiting a month until I give my true feelings about it because I realize skincare takes time to work & shoe results.. so far, so good!
Awesome product
Review by Polly T. on 18 Nov 2019
Love how great it is in my skin
Baby facial and marula oil
Review by Krystal P. on 18 Nov 2019
Baby facial and marula oil is the best!
Baby facial + Maula oil awesome
Review by Holleh P. on 18 Nov 2019
One of my favorite duos
Christina M.
5 star rating
Great Idea
Review by Christina M. on 18 Nov 2019
I love this time of year when you can buy kits like this one so you can try a bunch of the products before buying the full size. I'm happy to say, I wasn't disappointed. Of the products in the kit, I will probably buy full sized versions of at least half. The only drawback was the enormous amount of packing that the products came in.
Caroline E.
5 star rating
THE BEST
Review by Caroline E. on 16 Nov 2019
I have had terrible acne scars for years. Drunk elephant has SAVED my life. I am OBSESSED!
Superb value and products
Review by Karen C. on 15 Nov 2019
Loving every item inside the kit. My skin showed significant improvement after applying the oil cream and Babylisss facial. Expensive but totally worth it.
Best kit
Review by Kortny G. on 15 Nov 2019
I was so excited to try baby facial and shaba eye cream! I don't think I could live without either of these products! Heck I can't love with out the whole drunk family!!!