Filter Reviews
Results
Improvement
Oil
Bag
Skin
Face
Size
Moisturizer
Amount
Packaging
Feels
Kit
...
Looks
Value
Grail
Versions
Set
Skincare
Results
Improvement
Oil
...
5 star rating

4 star rating

3 star rating

2 star rating

1 star rating
Best deal!
Review by Daphne A. on 25 Nov 2019
Saved up some money to get the baby facial but found this set for just 8 dollars more of the regular price but with all of these goodies! Plus the pouch with more minis for free if you purchase $50 or more!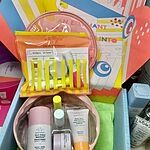 Courtney C.
5 star rating
Love it
Review by Courtney C. on 28 Oct 2019
Love everything from this kit. Even the carry bag is adorable and very versatile. My ONLY complaint is that I live in Canada, so it was a difficult process to receive this item!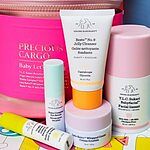 An amazing value!
Review by Shelly C. on 16 Oct 2019
Not only is Baby Facial a miracle product, but for just a few dollars more you get all these other products that last about a month, AND this adorable bag!! Total win!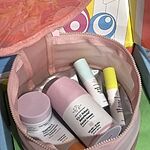 Products have really made a difference in my skin clarity
Review by Barbara H. on 5 Dec 2019
My overall face looks a lot less irritated. I've always used effective ingredients, but maybe they were too harsh because my skin always looked irritated. My skin looks calm. I'm also able to use DE moisturizers ( especially like the Lala cream).
I have very oily skin
Review by Kayla R. on 5 Dec 2019
I have very oily skin with annoying tiny blackheads year round that are SO hard to get rid of without damaging my skin. The face wash itself is amazing, leaving my face cleansed but not dry. The Lala Retro adds an extra layer of moisture without leaving a greasy feeling and of course the baby facial which is like no other. This was my first chemical mask and with one use my skin looked amazing. I cannot say enough good things about this precious cargo kit it's a must have.
Big fan!
Review by Erika V. on 5 Dec 2019
I'm new to DE & a full convert! I am loving the Baby Facial & Marula oil. I was worried the Marula Oil would have a crazy smell, but it is unscented. Treat yourself; you won't be disappointed.
Amanveer S.
5 star rating
Worth the money
Review by Amanveer S. on 2 Dec 2019
My skin is thanking me for using the drunk elephant products.
Great Value and super cute bag!
Review by Kari G. on 1 Dec 2019
Definitely purchase this while you can! Such a good value for all the products you get and the bag is sooo cute! A great purchase!
I'm very pleased with the
Review by Gladys B. on 27 Nov 2019
I'm very pleased with the products I received. I would recommend all of them.
Perfect Collection
Review by Kehara H. on 25 Nov 2019
If you want to get a good taste of how transformative DE can be for your skin- start with this kit. It includes a travel sized Baby Facial, as well the Beste wash and two incredible gentle moisturizers. And I LOVE the case. Perfect for travel wit the top and bottom compartments. Great buy!