Filter Reviews
Ingredients
Bumps
Acne
Scars
Smell
Skin
Complexion
Break
Breakouts
Results
Quality
Issues
...
Wrinkles
Pores
Irritation
Instructions
Hydration
Glow
Texture
Sample
Pimples
Looks
Effects
Kit
Ingredients
Bumps
Acne
...
5 star rating

4 star rating

3 star rating

2 star rating

1 star rating
Sensitive Skin? Highly Recommended!
Review by Nicole N. on 13 Mar 2020
I have very sensitive skin. Since I was fifteen, I've had to be very careful about makeup removers, masks, acne treatments, and basic daily face wash. Now in my 30's, I have the occasional struggle with acne breakouts that give me flashbacks to junior high. I needed something that would give me a deep clean without causing my skin to have a negative reaction or make the acne problem worse. T.L.C. Sukari Babyfacial is it.
The first time I tried it, I was nervous about the "slight tingling" mentioned on the bottle. I did notice a tingling sensation when I first put it on, but it subsided quickly. I would compare it to the tingling you feel when you have really chapped skin and put on lotion for the first time - there's the slight immediate tingle because your skin is dying for moisture and then you feel relief. Same thing with Babyfacial.
After I tried it the first time, I did have one pimple appear on my cheek, which is atypical for my skin (I break out mostly on my chin). I didn't use any sort of acne treatment on my skin because I dove deep into the Drunk Elephant lifestyle. My cheek was clear in two days. Mind. Blown.
I'm assuming the Babyfacial brought the nastiness out of my pores, so a pimple was probably inevitable. I followed the directions on the bottle and used Babyfacial the following week (Sunday night self-care). Again, the tingling was there for only a moment. This time, I used a little bit more to ensure good coverage. I did not have any pimples appear again after the second use.
After both times I used T.L.C. Sukari Babyfacial, my skin felt clean and there was no redness, which tends to happen to my sensitive skin whenever I use a deep cleansing product or mask treatment. I also followed the instructions on the bottle and immediately applied Virgin Marula Oil. I will say that after using the oil and leaving that on for about ten minutes (while I painted my nails) I did put on my standard nighttime smoothie - F-Balm, T.L.C. Framboos, and B-Hydra.
A final comment about this product - I firmly believe it helps with all kinds of acne. I breakout around my chin and usually around the time of my menstrual cycle. That time is now, and I have no breakouts. It's as if the deep cleaning I did on my skin is allowing it to stay healthy and clear even during a hormonal time. I'm impressed. To those with sensitive skin - I highly recommend T.L.C. Sukari Babyfacial!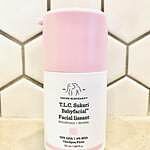 The Baby Facial
Review by Crystal G. on 5 Mar 2020
An immediate and very noticeable change in texture and tone of my skin.. I was asked by a co- worker if I had gotten surgery on my face because it looked so smooth. This product is a must have hands down.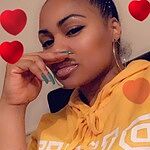 Love it!
Review by Kasie P. on 3 Mar 2020
This is a really great product that left my skin feeling so soft and smooth. A little goes a long way too so it lasts!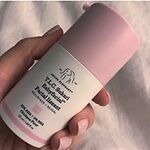 Love me some drunk elephant
Review by Melanie P. on 25 Feb 2020
This is a product that I unfortunately can't order in Ontario ! It's such a good add on to my DE products , I have it sent to buffalo and go pick it up at a friends place . I highly recommend this to anyone like me 40+.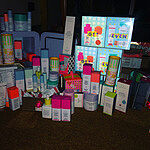 Love it!
Review by Abegail I. on 17 Feb 2020
First of all,I would like to give 5 stars for the customer service,not only they answer right away but they address the problem right away...(the concern is not about drunk elephant but the courier)
Any ways ,a lot of good reviews I have read from the users of drunk elephant though I am hesitant about the tingling I still go ahead and bought one..
First night I used it, there was no tingling or any facial discomfort,it's just like a sticky feel at the initial application..
I waited for 20minutes then washed it and followed it with the murula oil..my skin feels so smooth and soft...
After few weeks of using every week
I noticed my pores shrunk,no milia,
Just smooth!!!i think I will visit my facial clinic less! I love this product...I will keep on using it..🥰😍did I say I love drunk elephant💝😂the best!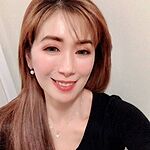 The BEST OTC facial available!!!
Review by Natalie T. on 31 Dec 2019
I care about my skin and have tried many products. Babyfacial is the real deal! AMAZING!!!! I use it every Saturday morning. People are shocked when I tell them how old I am (53yrs old). I use all of the Drunk Elephant products. Babyfacial is one of my favs!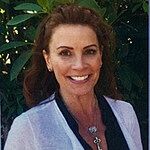 Before and after use past 3 months
Review by Natalie S. on 22 Dec 2019
My besties and I swear by this product. So grateful for it and its effectiveness. I have sensitive skin but this product is great!!!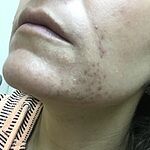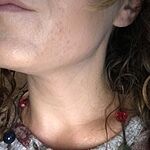 Out of this world!!
Review by Sophie D. on 14 Oct 2019
Wow, what can I say about T.L.C Sukari Babyfacial...Just an absolutely outstanding product that you have to try. This was one of the first DE products I got fixated on and fell in love with first. It has 25% AHA's and has been so good for my skin which back in March needed a boost and some resurfacing. I use it weekly and I found that my results really started to show from the 3rd or 4th use. I cleanse my face first, apply Babyfacial for 20 minutes and then rinse off and I usually follow it up with the Virgin Marula oil or a mix of Virgin Marula Oil/B-Hydra/Lala Retro. My skin has become immensely smooth, to the point where I can't stop touching it. It's also become virtually poreless, with barely any spots the last 7 months. Also it has gotten more even and clarified, with a more luminous glow! Love Babyfacial 🙏🙏💕💕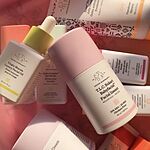 Rejuvenation!
Review by Jose F. on 27 Sep 2019
Drunk elephants Sukari Babyfacial is the real deal! Once applied, you'll feel it's tingling all natural pro quality formula as it gets rid of dead skin cells and reveals your radiant glow!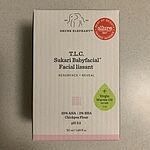 Want soft skin? Get Babyfacial!
Review by Sarah I. on 16 Jul 2019
My skin is definitely soft and smooth after using this product. I am 34 years old and love laying in the sun so fine lines have recently greeted my face. I use babyfacial 1x week alongside daily Framboos and Protini so it is hard to say which product is doing the heavy lifting on fine lines and skin texture but my Drunk Elephant regimen has definitely improved my skin overall. Breakouts have nearly diminished altogether (4 months nearly blemish free after years of patchy small pimples) with texture and radiance noticeably better!

Oh and I eased into all D.E. products as they recommend - starting Framboos first a few days a week working up to daily use. Babyfacial tingles but I did not experience burning like others mention.