Filter Reviews
Fragrance
Smell
Skin
Level
Residue
Texture
Feels
Moisturizer
Weight
Ingredients
Absorbs
Lotion
...
5 star rating

4 star rating

3 star rating

2 star rating

1 star rating
Lasting softness
Review by Becky H. on 3 Jun 2020
I love Drunk Elephant products. Some lotions only last a few hours. I put this on after a bath or shower and still feel soft in the morning.
Such Fun Hydration
Review by Arlana S. on 2 Jun 2020
I'm definitely impressed with the Sili Bodt Lotion. I love the texture and feel of the lotion. The scent is a light, fresh almond scent- not over bearing. Absorbs quickly , leaving no greasy or sticky residue on my skin. My skin in refreshed and hydrated!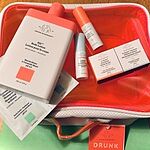 🤗
Review by Yvonne W. on 2 Jun 2020
Thank you for this new product. I just can't say enough about this body lotion.
I use it while I'm still a little wet after showering on my whole body and WOW!! What a difference it has made for me. my skin is very dry this lotion has definitely changed that!!
Nice
Review by Carol M. on 2 Jun 2020
I was hesitant because I thought it was unscented and unscented lotions often don't smell good. Then one reviewer mentioned an almond scent so I tried it. It is a nice lotion.
Happy User
Review by Tina A. on 2 Jun 2020
The packaging was eye appealing, reminded me of summer. Product comes of of the bottle easily, it absorbs quickly into the skin and spreads easily. Only complaint is that I wish it had alittle more fragrance and that it was 10oz. Instead of 8oz. I would definitely recommend this product & would purchase it again 😊
elizabeth g.
5 star rating
lightweight and very moisturizing.
Review by elizabeth g. on 30 May 2020
lightweight and very moisturizing.
Smells delish!
Review by Emma P. on 28 May 2020
The bottle is smaller than I was expecting but you don't need to use a lot of this body lotion. It is easily absorbed and leaves my skin feeling comfortable without any stickiness or greasy feeling. It has a light almond scent that I love.
The only body lotion I will use
Review by Shelley D. on 28 May 2020
This is light in a good way. It soaks right in and doesn't feel greasy or gross. It's my absolute fave.
Doesn't get all over my clothes and keeps me hydrated - hallelujah!
Review by Tara S. on 26 May 2020
It dries down nicely and doesn't leave me all sticky forever after application but it hydrates the heck out of my skin. Epic. I LOVE the lack of fragrance as body products tend to be loaded with it and I hate that. It has a very light sweet almond-y smell to it from the sweet almond oil in it but once it dries down I can't smell it anymore. My skin is very sensitive and this hasn't done anything to anger it. Love the easy to use packaging too. Just serious A+ all around.
New Go-To Lotion
Review by Emily S. on 23 May 2020
I have the MOST sensitive skin on my legs after I shave. I have never been able to put on lotion directly after I shave because my legs get itchy and burn. This lotion didn't irritate my legs at ALL and really makes me skin feel moisturized. It does have an almond-y scent at first which I don't like, but luckily it goes away when the lotion dries. I'll definitely be re-purchasing!