Filter Reviews
Skin
Packaging
Bottle
Difference
Size
Box
Feels
Use
Value
Jar
Kit
Price
...
Set
Shelf
Elephant
Littles
Firma
Bonus
Skin
Packaging
Bottle
...
5 star rating

4 star rating

3 star rating

2 star rating

1 star rating
Sublimely beautiful holiday kit!
Review by Sophie D. on 14 Oct 2019
Such a beautiful holiday kit with the most gorgeous products and packaging. C-Firma Day Serum is my favorite DE product, and you get 4 Littles also, at superbly good value. This kit and Shelf-Control kit are housed in a mini shelfie, with a beautiful mirrored door! So pretty, and it would make a perfect Christmas gift! Everything DE makes is of just such high quality. This is on my list as a Christmas gift to give to family members. The green and gold box that it's encased in is so luxurious, and I love the white box that is also included. The perfect day products in the most perfect shelf! ✨✨💚🧡 And C-Firma alone blows me away 🙌🙌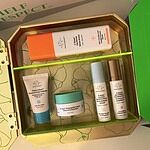 Amazing
Review by Michele F. on 19 Nov 2019
This holiday set is amazing! I love Cfirma for glowing skin it has evened my skin and I simply wont be without it. The other minis umbra sheer, dbronzi, Bhydra and Protini everything need for a perfect morning smoothie!
C-Firma Kit
Review by Megan T. on 14 Nov 2019
Love C-Firma. Has made such a difference in my skin. If you are on the fence totally get it!!
Anastacia S.
1 star rating
The box arrived broken
Review by Anastacia S. on 13 Nov 2019
The knob on the box arrived broken. They sent me a repair kit to fix it which was just super glue. By the time I received the 'repair kit' I had already tossed the knob, probably with the outer packaging. The whole reason I purchased this kit was to store the products inside the cute box.
You may return any purchase within 30 days if you are not completely satisfied. Please contact our Customer Relations team for a Return Authorization number and instructions.
Amazing kit!
Review by Kelly K. on 11 Nov 2019
Love love love this! I was dying for a full size C-Firma and i love how this kit gives you that plus a bunch of littles you would use in an AM routine all for just a little more than full size alone is! Would highly recommend!
Shelf-Respect
Review by Breanna D. on 11 Nov 2019
I needed a new C-Firma so it was great to get all the extra treats for similar price! The kit is great
Awesome!!!!!
Review by Rocio C. on 11 Nov 2019
Excellent products and beautifull mini shelf I loved🧡
Courtney C.
4 star rating
Love Products, Less Packaging
Review by Courtney C. on 11 Nov 2019
I love DE products and use them all exclusively for my skincare. I chose this package for its value: for the price of a single bottle of Vit C serum, I would also receive several Littles. I wasn't interested in the shelf box and found all the extra packaging involved in delivering the product rather wasteful. That said, others might appreciate the mirrored box and shelf and find them useful.
Jennifer S.
1 star rating
Shelf life set - overpriced not good quality
Review by Jennifer S. on 11 Nov 2019
Very disappointed with drunk elephant I was very excited for this brand. It was a lot of money but I figured it was worth it I was very wrong vitamin C serum was packaged in a bottle that broke one week after I bought it. I've been using the product for about 2 1/2 weeks now and do not notice any difference in my skin tone or texture. the sample sizes were very small. The quality of the products are not very good I also purchased the anti-pollution bronzer which was also overpriced for what the product is.
Thank you for your review Jennifer! We appreciate your feedback. We'd love to help fix your pump. Please email
info@drunkelephant.com
for assistance!
Margaret R.
4 star rating
Great Value For A Cute Kit
Review by Margaret R. on 7 Nov 2019
This entire kit contains my go-to day serum, C-Firma, at about the price of C-Firma. The included Littles are a nice little bonus. I could use them as stocking stuffers if I didn't use them myself.

The shelf is adorable but minus one star because I would like to se Drunkelephant use less plastic in their packaging. I'm o.k. for now with the airtight jars and bottles being plastic, but external plastic is unnecessary. I have many ideas on how you can make cute kits without the extra plastic that I'd love to share one of these days. Sorry no photo yet but I will be posting several to my Instagram soon!

4 stars for including C-Firma! I can't go outside without it under my sunscreen!