Filter Reviews
Acne
Fragrance
Spots
Cleared
Improvement
Glow
Color
Fit
Container
Breakouts
Face
Dryness
...
Skin
Pimples
Pores
Spf
Results
Size
Packaging
Combination
Favorite
Ingredients
Bottle
Experience
5 star rating

4 star rating

3 star rating

2 star rating

1 star rating
Wonderful!
Review by Ashley C. on 29 May 2020
Love the little test samples to really get to know which of the larger products i want to buy. I love all of it! fabulous fun colors too of course!

Thank you!
Love my skincare routine!
Review by Kaylah S. on 29 May 2020
I'm so happy I decided to get the Littles set rather then just one product;What a great way to try out Drunk Elephant properly!I love how everything works together and how my skin is not only feeling amazing but it's LOOKING amazing these days (about two weeks from my 30th) 😅 so thankful for the smoothie cards too as I tend to get overwhelmed easily with different products and options and also never knowing what order or how often to apply. All guess work gone with the smoothie cards to refer too! Drunk Elephant makes it so easy, cute and fun to get ready for the day and unwind at night! My new favorite hobby during all this self isolating has been pampering myself thanks to Drunk Elephant :) I'll be purchasing full size products ASAP!
Great Products
Review by Kellie H. on 29 May 2020
I loved the littles. It's a nice way to sample the products.
Little taste of all the goodies.
Review by Nicole Z. on 28 May 2020
What a way to dip your toes in a new brand. I was especially excited to try drunk elephant because they avoid the suspicious 6 in all of their products & I have ultra super sensitive skin. loved everything I tried from this kit after 3 weeks, my face is smooth & glowing! My faves: framboos, protini, c tango.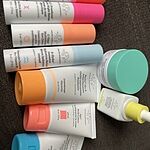 Christina S.
5 star rating
Just a test drive and I'm sold.
Review by Christina S. on 28 May 2020
I bought the littles looking for to test drive a new skin care system that would improve my skins hydration and texture and I could modify depending on what my skin needs. Drunk elephant is amazing and the smoothies have been great as you mix what your skin needs. Just one month of using the littles I sprung for the whole line. My face has never been happier.
LOVE IT
Review by Jessica M. on 28 May 2020
Obviously not all skincare products work for everyone. With that being said, I love the products and think this is a killer purchase if you want to test multiple products out.
Littles
Review by Cathy N. on 28 May 2020
Great way to dip your toe into Drunk Elephant! Having the chance to buy minis is great to find out what you like and what works for your skin. Love these products!
Love my skin!
Review by Tiffany W. on 28 May 2020
I've been looking for something to brighten and soften my face, and this product does just that!
very helpful for sampling
Review by lyndsie m. on 28 May 2020
very helpful for sampling
Best place to start
Review by Kaitlin R. on 28 May 2020
If you are considering trying DE, this is the perfect product to start with. You get great variety with several staples from the company.