Filter Reviews
Smell
Face
Results
Work
Skin
Alternative
Feels
Option
Consistency
Makeup
Refresher
Stays
...
Use
Removes
Water
Cleanser
Mascara
Layer
5.0 star rating

4.0 star rating

3.0 star rating

2.0 star rating

1.0 star rating
milky time
Review by Rita H. on 3 Sep 2020
since my skin is dry, I only use milky type products...love micellar water...I just wish that this removed makeup a little better...I find myself using it to remove and touch up make up but for a thorough cleansing, I will use thicker products....having said that, it DOES have it place, so I will probably repurchase.
Alicia D.
5.0 star rating
Blew me away!!!
Review by Alicia D. on 2 Sep 2020
This has got to be one of my fave DE products of all time! It's so gentle and nourishing but man does it get s**t done! It removes full glam makeup like no other, and I love how multi useful it is too! I've tried this in the morning instead of a water wash, throughout the day as a midday refresher, after working out, as a "first cleanse" and as a makeup remover. I've also even used it after cleansing, as a sort of essence, and man it wins every way I've tried it! Highly recommend this gem 😍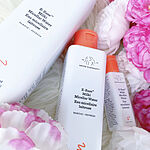 Wow!great results.
Review by Tonya M. on 2 Sep 2020
These products are great!daily use show skin improvements.
Iliana L.
5.0 star rating
Amazing!
Review by Iliana L. on 29 Aug 2020
It's amazing how this cleans your skin.
Meghan V.
4.0 star rating
Refreshing
Review by Meghan V. on 28 Aug 2020
I either workout or take my dogs for a walk, something to sweat every day and this has been the perfect little refresher for my face! Love that I don't have to rinse and it leaves my face feeling hydrated. The one thing I don't love is the smell, honestly! Kind of reminds me of baby wipes.
Pretty good!
Review by Nina F. on 26 Aug 2020
It leaves your skin nice and does not irritate. Best used with a makeup eraser cloth not cotton pads. 3 stars only because it's not the best for eye makeup removal.
Excellent
Review by Donna R. on 24 Aug 2020
Excellent product
Jeannette P.
5.0 star rating
Best micelles water ever
Review by Jeannette P. on 24 Aug 2020
This will be my favorite micelles water for now on
Meredith J.
5.0 star rating
The cleanser I didn't know I needed!
Review by Meredith J. on 21 Aug 2020
This cleanser/micellar water is the cleanser I didn't know I was missing from my routine. I have been using milki for about three weeks now and my skin had loved it. My favorite time to use milki is in the morning after waking up, I love that it gently cleanses the skin and takes away any sweat and grime that might happen when sleeping. 10/10 would reccomend. 🐘💕
I wanted to try this
Review by Emma G. on 21 Aug 2020
I wanted to try this to add a different cleanser to my skincare routine, to use in conjunction with my foaming cleanser. At first, I wasn't sure how to use it- I was putting it on my face and then not really adding water to it to rinse it off. Then I actually read the directions and read some questions asked to the brand on their Instagram and realized I was using it wrong. Now I wipe my face, totally rinse it off, and now I'm getting the clean feeling I was looking for from it! I'm not sure I would use it for a quick "cleanse" whenever I'm on the move like it says you can- while my skin doesn't feel bad when I do that, I felt unfinished. Overall, it's a good cleanser and I will be buying it again!