Filter Reviews
Breakouts
Results
Face
Set
Quality
Feels
Packaging
Combo
Skin
Customer Service
Size
Littles
...
Breakouts
Results
Face
...
5 star rating

4 star rating

3 star rating

2 star rating

1 star rating
Gabriele M.
5 star rating
Obsessed doesn't begin to describe it
Review by Gabriele M. on 2 Apr 2020
So something that I've been wanting to work on is finding a good skin care line. But honestly I had no idea where to even start. I started doing research and drunk elephant caught my eye for three reasons. 1. The colors and elegant packaging 2. The fact that their products leave out 6 ingredients that they believe are harmful to the skin & 3. The fact it comes with these little cards that tell you what to mix together for a face care "smoothie". Unfortunately they're totally not in my price range. Turns out they have what's called "the littles" which is most of their products in minis so I decided to order it and I'm sold. I've used it for three days so far and I can already tell a huge difference. Before, my face was blotchy and discolored. The first day I used it is pictured below (the pink shirt) and the other picture is from tonight I definitely would recommend investing in this. I've done extensive research and watched many product videos and from what I've seen the littles usually last people about two months which I think is pretty good considering the size. Also, they only recommend you wash your face with their cleanser once a day, usually at night. @drunkelephant #drunkelephant #littles #drunkelephantskincare #glowrecipe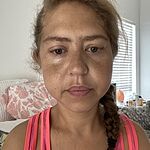 Little Treasures
Review by Taryn A. on 9 Apr 2020
Loving my littles. Two weeks in my skin feels and looks better. It's fun and easy to mix and match the smoothies. I feel I can't go wrong. Love the packaging for added cheer.
Courtney B.
5 star rating
Wonderful product! Have already noticed
Review by Courtney B. on 8 Apr 2020
Wonderful product! Have already noticed results.
Samantha O.
5 star rating
Love
Review by Samantha O. on 8 Apr 2020
Absolutely fell in love with these products. My skin has never felt so great.
My Go-To!!
Review by Kaylyn K. on 8 Apr 2020
About a year ago my friend who is an Esthetician, told me about the Virgin Marula Oil and I fell in love. I have sensitive and acne-prone skin. I've had no issues or outbreaks since I slowly started incorporating more of the Drunk Elephant products into my skincare routine.
For me, "the littles" saves me money by allowing me to use all of my favorites while trying new products.
My entire skin has changed. I've had skin issues that brought on embarrassed but I've noticed my overall skin texture and tone has improved.
Love this
Review by Olivia B. on 7 Apr 2020
Love this
In love!
Review by Nicole I. on 7 Apr 2020
I am so obsessed with everything from this company. I bought the Littles because there were a couple products I still hadn't tried, and wanted to. Of course, they're amazing. I have such sensitive skin and I have no problem with this brand. I want to buy full size everything!
So far so good
Review by Marla G. on 7 Apr 2020
So far so good
The Littles
Review by Shirley C. on 7 Apr 2020
Was my first experience with DE. Absolutely love the products in the orange bag. Have ordered twice since to replace those products I've been using most frequently. My faves: Protini, Marula Oil, TLC Framboos.
Love the Littles!
Review by Mary H. on 6 Apr 2020
Great way to try the products and comes with it's own bag which, is amazing for traveling.