Filter Reviews
Skin
Size
Feels
Sample
Packaging
Jar
Box
Difference
Bottle
Value
Kit
Use
...
Price
Set
Shelf
Elephant
Littles
Firma
5 star rating

4 star rating

3 star rating

2 star rating

1 star rating
Sublimely beautiful holiday kit!
Review by Sophie D. on 14 Oct 2019
Such a beautiful holiday kit with the most gorgeous products and packaging. C-Firma Day Serum is my favorite DE product, and you get 4 Littles also, at superbly good value. This kit and Shelf-Control kit are housed in a mini shelfie, with a beautiful mirrored door! So pretty, and it would make a perfect Christmas gift! Everything DE makes is of just such high quality. This is on my list as a Christmas gift to give to family members. The green and gold box that it's encased in is so luxurious, and I love the white box that is also included. The perfect day products in the most perfect shelf! ✨✨💚🧡 And C-Firma alone blows me away 🙌🙌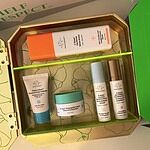 I love my Shelf respect
Review by Wendy O. on 6 Dec 2019
I love my Shelf respect kit! The Vitimin c is my favorite!
Obsessed!
Review by Lisa G. on 2 Dec 2019
This is the morning routine I never knew I needed! I won't ever to without these products again! Wish I started sooner!
while I was very happy
Review by Anna W. on 27 Nov 2019
while I was very happy to get to try all of these products, I was not happy when my neck had a weird reaction to it. The vitamin c serum left weird dry spots on my face and the moisturizer burned. The sunscreen was no good and the moisturizer burned. The only possible redeeming part of this kit was the bronzing thing, but I am too scared to try it on its own for fear that the strange dry spot on my neck might come back.
Thank you for your review Anna! This does not sound like a typical experience from Umbra or C-Firma. Please email your routine to
info@drunkelephant.com
We'd love to help!
Marguerite G.
5 star rating
The best products under the
Review by Marguerite G. on 26 Nov 2019
The best products under the sun!
Love the products
Review by Kris S. on 25 Nov 2019
Love the products
Loved it.
Review by Neha D. on 25 Nov 2019
This was a birthday gift for myself this year. I have been wanting to try different products from DE but was not able to find a good kit until I saw this on the website! After that I just had to have it. It comes in a cute storage container with a huge mirror. I now use it to put all of my DE products in it. All the samples are wonderful as well! This entire kit will last me a long time.
Samantha D.
5 star rating
Such great value for these
Review by Samantha D. on 20 Nov 2019
Such great value for these products, great packaging love this brand
Amazing
Review by Michele F. on 19 Nov 2019
This holiday set is amazing! I love Cfirma for glowing skin it has evened my skin and I simply wont be without it. The other minis umbra sheer, dbronzi, Bhydra and Protini everything need for a perfect morning smoothie!
C-Firma Kit
Review by Megan T. on 14 Nov 2019
Love C-Firma. Has made such a difference in my skin. If you are on the fence totally get it!!