Filter Reviews
Size
Eyes
Acne
Skin Type
Husband
Nose
Face
Fit
Improvement
Pores
Favorite
Break
...
Breakouts
Alternative
Results
Reaction
Complexion
Feels
Smooth
Combination
Spots
Formula
Wrinkles
Sunscreen
5 star rating

4 star rating

3 star rating

2 star rating

1 star rating
Best Light Moisturizer ever!
Review by Shelly C. on 30 Jul 2020
Smooth, cooling, creamy without feeling like "cream", the non-sticky gel texture of Protini is a dream for summer, and for daytime anytime! Give your skin a taste of peptides and hydration!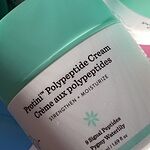 Amazing moisturizer
Review by Alicia D. on 30 Jul 2020
Protini is seriously a power packed moisturizer! It's lightweight, yet moisturizes perfectly! I loveee that it contains peptides to strengthen my skin! I love it on its own and/or mixed into a smoothie! Will always repurchase this baby!
Helps Fine Lines
Review by Debi Z. on 30 Jul 2020
If you are faithful with the product I have seen a nice improvement with fine lines, not deep lines. I would recommend this product!
Great moisturizer!
Review by Dale M. on 30 Jul 2020
After cleansing my face every night, I combine this with Marula Oil and apply. The best!
Patricia W.
5 star rating
Loving this product
Review by Patricia W. on 29 Jul 2020
I really really love this product. My skin is pretty dry and this works really good and does not leave my skin feeling like it is just lying on top of my skin. It takes it in and it feels great.
Best Moisturizer in the World
Review by Bobbie B. on 29 Jul 2020
I work in a freezer that can reach -15 degrees, it would dry up my skin and then heat up as soon as I walk out the freezer. This would lock dirt in my pores and clog them. This moisturizer cleared up my skin and shrunk my pores and protects it from the harsh weather. My skin has never been this clear in my life.
Kimberly K.
5 star rating
Fave Moisturizer In The World!!
Review by Kimberly K. on 29 Jul 2020
Drunk Elephant hit the mark with this one! Protini is my first choice for moisturizer. It sink right into my skin, leaving no trace of anything sitting on the skin. It literally is absorbed in seconds, leaving my face and neck soft and feeing amazing.
Danielle H.
5 star rating
Love
Review by Danielle H. on 29 Jul 2020
Love my protini
I am in love with
Review by Mariia D. on 29 Jul 2020
I am in love with all drunk elephant products !!!
Amazing!
Review by Lisbeth G. on 28 Jul 2020
Drunk Elephant Protini Polypeptide Cream has been is a game changer in skin care! Helps even your skin and naturally brightens your skin.