Filter Reviews
Breakouts
Pores
Skin
Sunscreen
Texture
Coverage
Fragrance
Cast
Protection
Residue
Smell
Streaks
...
Face
Packaging
Feels
Foundation
Amount
Weight
Consistency
Spf
Looks
Formula
Tint
Makeup
Sunscreen
Texture
Coverage
5 star rating

4 star rating

3 star rating

2 star rating

1 star rating
For sensitive skin!
Review by Ashley S. on 2 Jul 2020
I have never found a moisturizer I can use daily. I know this is an SPF mainly, but I have semi oily skin and I use it as a moisturizer, I LOVE IT! 10/10 recommend.
I love it!
Review by Eve D. on 2 Jul 2020
I love it!
My favorite sunscreen!!
Review by Sami H. on 1 Jul 2020
I absolutely love this sunscreen. Feels great on my skin!
Stephanie V.
5 star rating
Holy moly
Review by Stephanie V. on 29 Jun 2020
I honestly don't know why some reviews mentioned a white cast It does appear like a white cast for the first 3 mins and then wears off let's remember it's a SUNSCREEN it feels thick when applying but I promise it wears off!!! I'm happy it doesn't leave my skin oily I think my skin got more clear after wearing this sunscreen. I also wear it underneath my foundation and I love the outcome. I LOVE LOVE LOVE this sunscreen!!!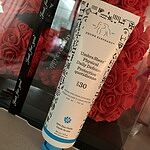 Soft
Review by Mary S. on 29 Jun 2020
Skin is soft and doesnt burn.
Krystina G.
4 star rating
I am a woman of
Review by Krystina G. on 29 Jun 2020
I am a woman of color and the tinted one is not my skin color so it doesn't work and this one leaves a little bit of white on my skin but slowly goes away as my skin starts to soak it in.
Stephanie F.
5 star rating
Great sunscreen
Review by Stephanie F. on 26 Jun 2020
This is the only face sunscreen I've had that doesn't leave my skin greasy, slick, or oily. It dries matte and actually makes my skin look and feel better. I've been using it for about a year now and I can feel the difference when I'm out in the sun when I'm not wearing it vs when I am. Once you let it dry after you put it on, makeup can go on top so easily and not leave streaks or look caked on.
Love this nontoxic sunscreen. Doesn't
Review by Carly B. on 26 Jun 2020
Love this nontoxic sunscreen. Doesn't make my face breakout.
Wonderful!
Review by Kayla T. on 25 Jun 2020
I have been searching for a light sunscreen that didn't cause my eczema to flare up -and this one is it! Perfect for multiple applications throughout the day without feeling too bulky. I recommend 100%
Love!
Review by Daniela D. on 24 Jun 2020
I do not go a day without this moisturizer.