Filter Reviews
Acne
Improvement
Packaging
Line
Results
Face
Breakouts
Dryness
Hydration
Feels
Skin
Moisturizer
...
Texture
Residue
Glow
Change
Customer Service
Looks
Consistency
Use
Difference
Mask
Drink
Pump
Acne
Improvement
Packaging
...
5 star rating

4 star rating

3 star rating

2 star rating

1 star rating
Like it ... a lot
Review by Ashley S. on 1 Jul 2020
I don't quite love it. It is a great moisturizer, doesn't break me out, however I feel like it works as a daily moisturizer not really a mask. I use it every day at night as the last step in my routine. It's not greasy and I do like it.. I was expecting a little more
Love this product after baby
Review by Kelly J. on 29 Jun 2020
Love this product after baby facial and talc framboos.
Great product
Review by Kendra B. on 29 Jun 2020
This works incredibly well. My skin looked better the next morning- more hydrated/plumped, smooth. My only wish is for environmentally better packaging.
Hands down favorite DE product
Review by Stacey K. on 29 Jun 2020
I have sensitive, oily, acne-prone skin and struggle to find moisturizers that don't make it all so much worse. I had been using other products in the DE line (like protini) which was not at all bad - it was just not as great a fit for me as this product. I use it over TLC at night. While my skin noticeably improved with use of the DE line in general, it has been significantly better since swapping the protini for this product. I wish i could trade my mostly full container of Protini for another one of these :)
Estefania G.
5 star rating
Na
Review by Estefania G. on 29 Jun 2020
Na
Elizabeth K.
5 star rating
Love at first push
Review by Elizabeth K. on 25 Jun 2020
Love it - it's so hydrating and really soothing as the last step in my skincare routine after a long day. A little goes a long way, start with 1 or 2 pumps. Totally rebuying when I'm out.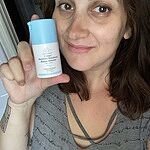 F-Balm
Review by Heather P. on 25 Jun 2020
This is a great moisturizer, I use this at night. I have very sensitive skin and it dose not bother my face.
Jennifer L.
5 star rating
Amazing!
Review by Jennifer L. on 25 Jun 2020
I honestly use this waterfacial every evening. It's been the best way to calm my acne down and moisturize my face entirely.
The F balm
Review by Julia G. on 25 Jun 2020
So far so good. This gives my skin a boost of hydration. Perfect after a long day in the sun or even in the winter if your skin needs a little pick me up.
Es delicioso
Review by Susana E. on 23 Jun 2020
Es un bálsamo que te deja la piel hidratada y luminosa, me encanta.