Filter Reviews
Skin
Size
Smell
Line
Texture
Packaging
Results
Taste
Feels
Lips
Difference
Moisturizer
...
Balm
Tube
Lip Balm
Lippe
Elephant
5 star rating

4 star rating

3 star rating

2 star rating

1 star rating
Love it!
Review by Jovana T. on 5 Apr 2018
Love the Lippe, my lips are moisturized and softer than ever!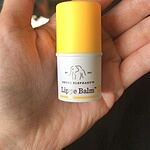 Love!!
Review by Megan D. on 7 Apr 2020
My new favorite lip balm!!! Lasts for many hours and I don't think it drys my lips at all as sone other reviewers have said.
This works
Review by Rachel M. on 25 Mar 2020
This really does plump up my lips.
Good stuff, I'm giving it
Review by Emily W. on 13 Mar 2020
Good stuff, I'm giving it 4/5 stars because it does for the most part do what it's made to do, I just wish that the moisture lasted longer. And the package is super cute.
Best lip balm!
Review by Erin M. on 20 Feb 2020
I keep this in stock all year long
really good lip balm
Review by Venus G. on 10 Feb 2020
This has kept my lips moisturized the entire winter
I love Lippe Balm
Review by Carolyn K. on 31 Dec 2019
I have used Lippe Balm for years. I have tried many other brands and nothing comes close to how moisturizing this product is.
Soft and silky
Review by Gabby S. on 30 Dec 2019
Love this on my lips. Not sticky and love the smell.
Love it! Wish it was bigger!
Review by Cassia D. on 28 Dec 2019
Love this for my lips. Wish the tube was bigger .
Excellent lip product
Review by Mary A. on 17 Dec 2019
Excellent lip product