Filter Reviews
Ingredients
Weight
Smell
Cleared
Results
Skin
Improvement
Flakes
Glow
Texture
Looks
Issues
...
Acne
Neck
Breakouts
Dryness
Container
Fragrance
Bumps
Step
Wrinkles
Irritation
Consistency
Photo
Ingredients
Weight
Smell
...
5 star rating

4 star rating

3 star rating

2 star rating

1 star rating
Magic
Review by Mori P. on 29 May 2020
Love this stuff! I've been seeing a dermatologist for months bc of some hormonal breakouts and this stuff has been the only thing to help! Simply amazing!
this product is the best!
Review by Denise D. on 29 May 2020
my skin feels great after using this product at night, and the next day my skin kooks incredible!! Don't change ANY of the drunk elephant products, they are all amazing!
Love!
Review by Candace S. on 29 May 2020
This stuff is amazing, such a cult favorite! I use this about 2-3 times a week and use Babyfacial once per week.
Amazing
Review by Ashley M. on 28 May 2020
I've been using the whole line of products for just over a 6 weeks and I'm in love. I've noticed a significant difference in pore size and oiliness. I added the once weekly Baby Facial and the A Passioni Retinoid-A cream and my skin is so soft and smooth I use the TKF Framboos nightly and it has made a huge difference.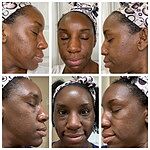 Love it!
Review by Brigita D. on 28 May 2020
I have been using this for a couple weeks now and the results so far are amazing! I love this product and would recommend it for everyone!
Great Product for keeping skin clear!
Review by Jessica W. on 28 May 2020
I have oily skin and T.L.C. Framboos greatly helps my breakouts and overall oiliness. I use it nightly and it pairs great with the Waterfacial mask.
Game-changing product
Review by Anne M. on 28 May 2020
I've been using TLC Framboos for a year now and can't recommend it more. More so than any other skin product, it has completely changed my skin for the better. It looks younger and smoother. Pairs really well with the virgin marula too :)
Life changing
Review by Dana M. on 28 May 2020
Period.
Great serum!
Review by Andrea T. on 28 May 2020
Noticeable difference after only one use. Burned/tingled a little the first night, but am able to use it every night with no side effects. Smooth, even appearance. Use with Vitamin C serum in the mornings.
Karolina K.
5 star rating
Shocked!!
Review by Karolina K. on 28 May 2020
I thought to myself another product that may sit there and only get used for a little then my skin will react to this and I won't like it anymore. Not true. I love this. I don't use it every night. Since I alternate between other products. Keeper!!!